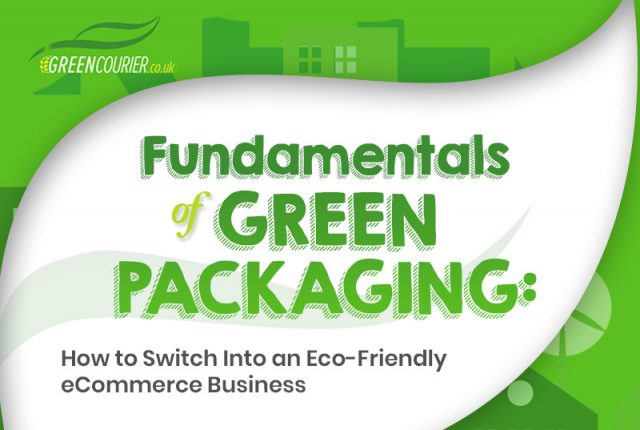 [Infographic] Fundamentals of Green Packaging: How to Switch to an Eco-Friendly E-Commerce Business
As awareness about the importance of preserving the environment continues to grow, it seems obvious that becoming eco-friendly is the only way to go for businesses – and the e-commerce industry is no exception.
The advent of the digital age has brought in the rise of the e-commerce industry. Today, online shopping is the preferred method of an increasing number of consumers who prefer the convenience of purchasing products and services from the web.
But, with the increasing number of online consumers turning to eco-friendly products and services, how exactly can you make your e-commerce business profitable while being sustainable at the same time?
Although it may seem a challenge, there are actually countless of ways to switch to an eco-friendly e-commerce business. In this infographic, Green Courier sheds light on the many forms of initiatives that you can take.

Did You Know?
It's no secret that purchasing online is now the most accepted method for many.  A 2017 Retail Dive consumer survey revealed that consumers are more likely to make the purchase online for almost all categories of their needs. The research also found out that:
Out of six categories – appliances, entertainment, apparel, personal care and household essentials, it's only the latter that consumers still prefer to shop offline.

Although consumers are moving towards online shopping in general, there remains a variation based on demographics: Shoppers in the 35 to 44 age range are more likely to shop online than other age groups.
Reasons Why Consumers Prefer to Shop Online
* based on the 2017 KPMG report
24/7 shopping

Price comparison

Online sale

Time-saving

Convenience

Free delivery offers
How to Make Your E-Commerce Business Eco-Friendly
Implement Green Initiatives
By putting green initiatives into practice, you contributen towards a healthier environment. This may look like a no-brainer but, if you are a business with a physical store, in particular, you can start by implementing environmental management programs to:
Minimize waste

Reduce pollution

Cut down on energy consumption
Support a Green Cause
Be involved in a community by supporting an eco-friendly cause. Better yet, organize a local neighbourhood cleanup or donate a portion of your profit to an organization or a project that is in line with what you care about.
Partner with a Green Courier
Employ the services of an eco-friendly company. Although a traditional courier can get the job done, an eco-friendly option is a better alternative that offers the same services but less the carbon emission common in the delivery industry.
Think of Green Packaging
Invest in sustainable materials for your packaging. This move is likely the most straightforward strategy you will use as it's the one your customers will actually see. Such alternative green packaging can take many forms, all of which has a minimal negative impact on the environment.
Types of Sustainable Packaging
Air Pillows

Bubble Wrap

Bagasse Paper

Foam Peanuts

Cardboard and Paper

Biodegradable plastic

Mycelium (Mushroom Foam)
Why Sustainable Packaging
Easy disposal: a sustainable packaging is biodegradable. In general, it doesn't require any chemical or method to dispose of it.
Storage: most eco-friendly packages weigh less than standard packages. They also take lesser space, so there's more for other goods.
Fewer resources: further, eco-friendly packages are manufactured using fewer materials than their counterparts thus, significantly reducing production costs.
Why Make the Switch to Eco-Friendly
Although one cannot deny the benefits of eco-friendly packaging for the environment, you might wonder what its commercial benefits are.  A survey by the Recycled Paperboard Alliance revealed that:
About 60% of consumers are more likely to buy from businesses that use green packaging.  

The same consumers are also vocal about their support for companies that incorporate sustainability to their processes.

On the other hand, a research by the PPMI found that 1 of every 5 household essential consumers has eco-friendly packaging as one of their top purchasing criteria.
How to Make Packaging Even Greener
The following tips below will make your business more appealing to eco-conscious consumers.
Minimize Packaging

– eliminate unnecessary wrappings that only add weight to the parcel.

Use Multifunctional Packaging

– provide an additional purpose for the packaging to add value to your overall service.

Encourage Customers to Recycle

– stamp your packaging with a guide explaining ways how it can be upcycled.
Brands that Already Made the Switch
TOMS
In 2006, founder Blake Mycoskie started donating a pair of shoes to a child for every pair of TOMS sold. Fast forward to present, TOMS has donated over 60 million shoes and has since further its efforts to provide clean drinking water and eye services across the globe. In addition to that, every TOMS shoes and shoebox is made with sustainable materials.  
Lush Cosmetics
The all-natural bath and body brand is dedicated to making the world greener, one step at a time. Among its green initiatives include creating solid products that are typically liquid to avoid additional waste and offering freebies to patrons who bring in empty packages back for recycling. These green initiatives have inspired worship from beauty enthusiasts around the globe.
Apple
The brand may come as a surprise, but Apple has actually made its part in the move to a greener environment. In 2015, the company signed an approximate $1 billion deal to have their California-based headquarters as well as stores, offices and data centres run on solar energy. The company also puts emphasis on sustainability by using recycled materials on its packaging.
Going green offers eco-friendly benefits beyond you can imagine. It not only minimizes your carbon footprint but, for the better part, it can also improve your bottom line by reducing your operational costs while increasing brand awareness at the same time.
By creating a green image, you can tap into the growing market and even attract new following who will see you as a company that cares about the environment. Make the switch today!
Did you find this article helpful and informative? What green steps are you taking to make your e-commerce business eco-friendly? Let us know by commenting below!